Description
Erythritol is a natural sweetener that is a great alternative to sugar, as it provides the same sweetness without the negative health effects of sugar. It has a clean, sweet taste with no aftertaste and is perfect for those who are looking to reduce their calorie intake, maintain their blood sugar levels, or who are following a low-carb or keto diet.
Unlike other sugar alcohols, erythritol is easily digestible, meaning it is less likely to cause digestive discomfort like bloating or gas. Additionally, erythritol does not contribute to tooth decay and is safe for those with diabetes or anyone who wants to maintain a healthy lifestyle.
Erythritol is a versatile sweetener that can be used in a variety of recipes, from baked goods to drinks and even as a topping for fruit or yogurt. It measures and behaves like sugar in recipes, making it an easy substitution.
Overall, erythritol is a great choice for anyone looking for a natural, low-calorie sweetener that can help them achieve their health goals without sacrificing taste. So why not give it a try and experience the benefits for yourself?
Benefits
Low calorie, Does not raise blood sugar level, Tooth friendly, Easy to digest, Safe for people with allergies.
Nutrition Facts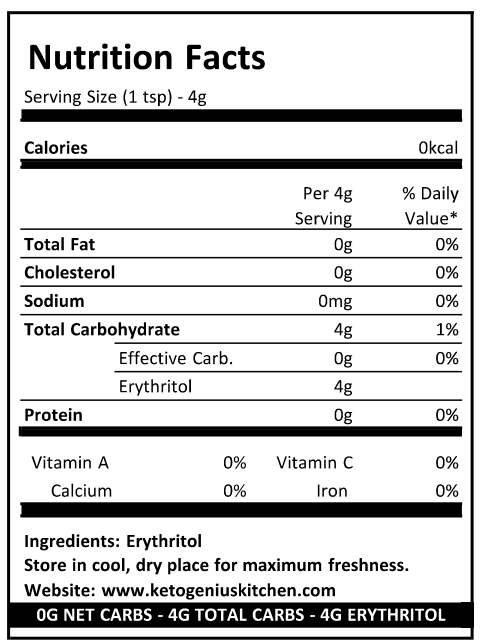 Allergen Information
Nut products
Storage Instruction
Store in cool, dry place for maximum freshness.