Description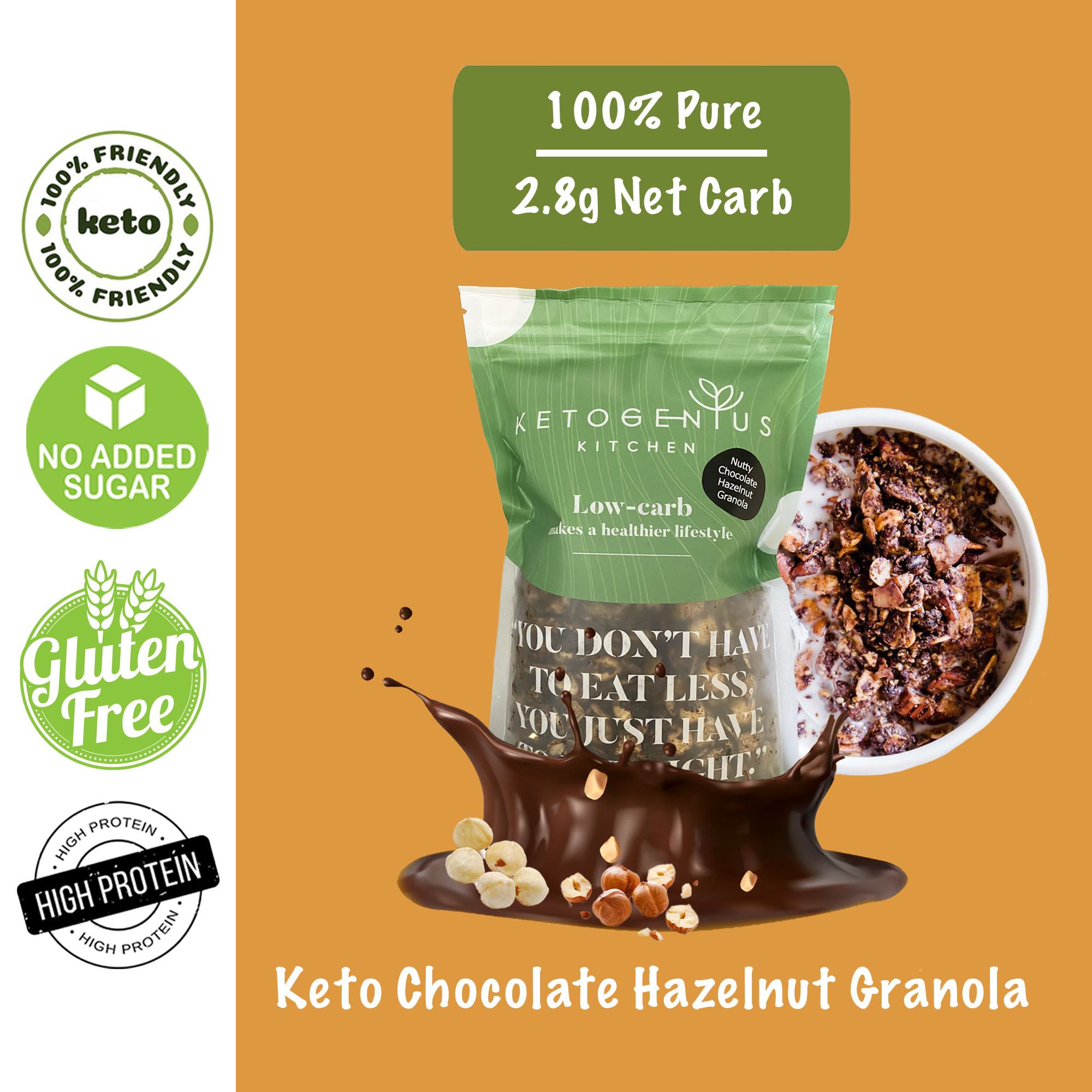 ⭐ Net carbs of 2.8g per serving
⭐ All natural and no added sugar
⭐ Vegan, Keto-friendly and diabetics-friendly
⭐ 95% Customer repurchase rate
⭐ 100% premium natural ingredients: pecans and almonds, seeds, unsweetened chocolate and allulose
⭐ Allulose as natural sweetener
⭐ Enjoy the natural fineness, crispiness, aroma and nutrient of each of this ingredient in a pack
⭐ Unique taste you can't find in the market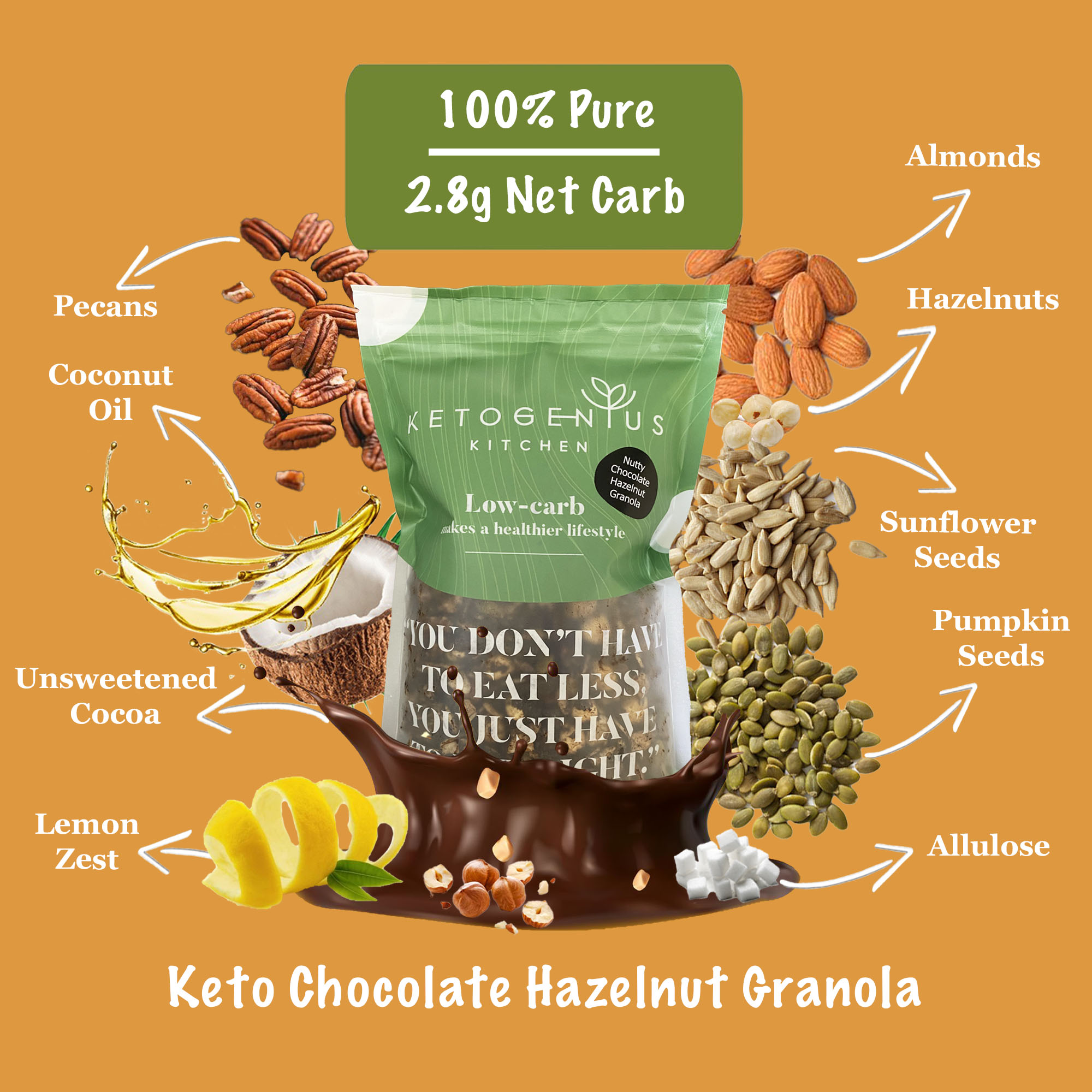 Keto Nutty Chocolate Hazelnut Granola - the way it should be. Keto Friendly, Healthy, Delicious, Sugar-Free and Effortless.
Our Keto Nutty Chocolate Hazelnut Granola has the lowest carb among our granola series with net carbs of 2.8g per serving only. Our recipe contains 100% premium natural ingredients included nuts like Pecans and Almonds, seeds, unsweetened chocolate and natural sweetener, allulose which is diabetes friendly.
With a right amount of nuts, seeds and unsweetened chocolate blended with a pinch of sea salt, allulose and pure lemon zest to enrich the flavor layering of this keto granola. You will definitely feel the actual sensation of taste on our granola.
Other than natural sugar from allulose, you will never find sugar or sugar substitute in our recipe. Again, we love to keep it clean and simple.
Start your day with our Keto Nutty Chocolate Hazelnut Granola. Put yourself in a good mood. Pair it on some yoghurt, or some (nut) milk on top. We like it with berries. You could just eat it straight out of the bag. Whatever you do, stop worrying about the macros and get on with the day.
Benefits
Pecans: ✅ Brain enhancement ✅ Improve Digestion and Helps with Weight Loss ✅ Strengthen immune system ✅ Improve Heart healthy ✅ Reduce Risk on Certain Cancer ✅ Anti-aging and Anti-inflammatory
Hazelnuts: ✅ Brain enhancement ✅ Healthy bowel movement ✅ Keep skin healthy ✅ Heart Healthy
Almonds: ✅ Brain enhancement ✅ Glowing & youthful skin ✅ Healthy bones ✅ Heart Healthy ✅Lower cholesterol level
Pumpkin seeds: ✅ Good for the heart ✅ Good source of antioxidant ✅Lower cholesterol and blood pressure
Sunflower seeds: ✅ Good source of folate ✅ Good for the heart ✅Lower cholesterol and blood pressure
Unsweetened Chocolate: ✅ Improve Brain Function ✅ Reduce High Blood Pressure ✅ Lower Risk of Heart Attack and Stroke ✅ Improve Mood and Symptoms of Depression ✅Lower bad cholesterol level
Organic Coconut Extra Virgin Oil: ✅ Improve Heart Health ✅ Encourage fat burning ✅ Protect your skin, hair and teeth ✅ Raise HDL (good) cholesterol level
Lemon Zest: ✅ Boost Immunity System ✅ Promote Heart Health ✅ Anticancer properties ✅ Support Oral Health ✅ Rich in Antioxidants
Nutrition Facts