Description
Macadamia nuts are one of the highest fat's contents of all nuts. It has a subtle, buttery rich flavor, with a texture that's more creamy than crisp. Our macadamia nuts are in style 6. It contains kernel in pieces which are around 6mm to 10mm. They are packed in raw with their natural, subtle sweetness and creamy texture. They are suitable to use it in your baking or cooking. It could be a good option to get the macadamia in your diet without breaking the bank.
Benefits
High in healthy fats, vitamins and minerals; High in antioxidants, promote brain health, reduce heart disease risk, reduce risk of diabetics.
Nutrition Facts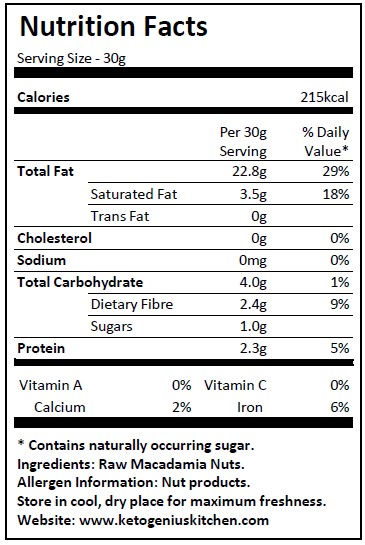 Origin
South Africa/ Australia
Allergen Information
Nut products
Storage Instruction
Store in cool, dry place for maximum freshness.